Carefully Handcrafted with the Finest Quality Materials
Premium Grade Soft Leather and Viscoelastic Polymer
Provides the ability to maintain its shape, stretch, deflect an applied load and absorb shock makes it ideal material for supporting spine health.
Aircraft Grade Aluminum Black Anodized Slider
A strong and supple cord works with the high-grade slider so adjustment is smooth and secure.
Industrial Grade Eyelets and Crimps
Provides strength and longevity.
Choose from a nylon fiber plastic, 24k plated, or unfinished brass or the custom "J" hard thermoplastic coated metal hook.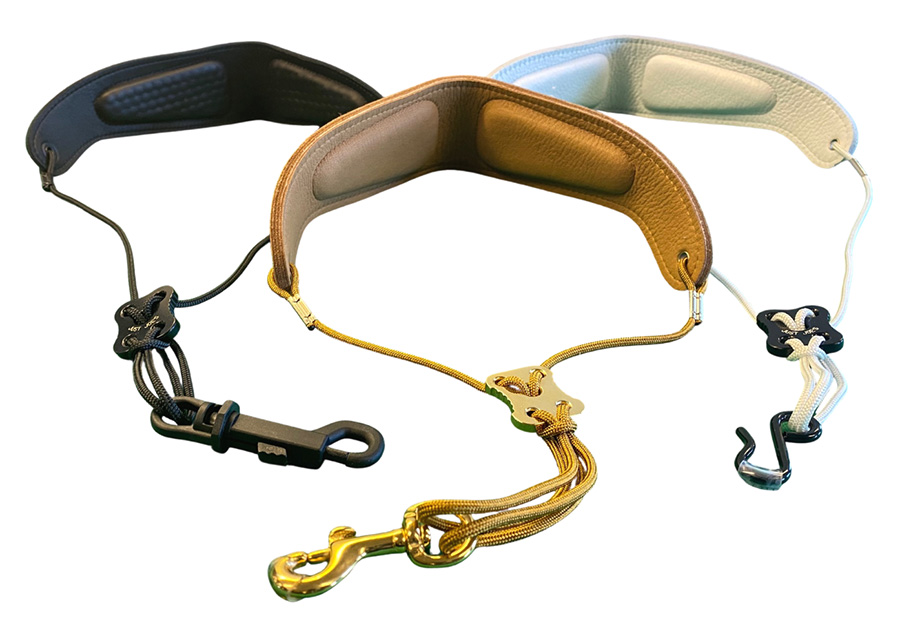 Joe Talks Straps
What Makes Our Strap Effective
Joe Rohrbacher discusses his neck injury, loving his music, and creating a product to play in comfort.
"Thanks for a wonderful product. Beyond being old-school stylish, it performs. Good-bye neck pain. At one point, I had toyed with getting one of those unconscionably ugly harnesses, but then this came along. Now it seems as though I can play pain-free, well, forever. Or, to be truthful, for as long as an audience can endure me."

– Jim Conaty
"This is by far the most comfortable conventional neck strap I've ever used, hands down.  The cushion gel pads leave a nice space for the bones of your neck to pass through, keeping the weight of the horn off the back of your neck.  I don't like the upper torso restriction of a harness and like the freedom of a regular neck strap design.  This is the best straight-forward strap I've ever used."
"Joe, Got my strap in the mail yesterday.  It is perfect!  So unbelievably comfortable!  I am certain I will love this strap more than any other I've ever tried.  Thanks so much for the great sax product!"
"Joe Rohrbacher has designed what I think is the best strap design I have seen to date. Well made with an intelligence about what a sax player needs. Congratulations Joe on some good work and thoughts."
"Since I've been using Joe's new neck strap I've been able to play tenor again with a strap instead of a harness.  Very easy on the neck, and doesn't pinch the vessels on the side of the neck like many other straps do.  The quality of materials make it a joy to put on!"
Now with More Options
Just choose your color of leather, strap length, and your hook and slider option, and you'll be on your way.